2 Days Desert Tour From Marrakech to Erg Chegaga Dunes
Marrakech to Erg Chigaga / Best Desert Tour From Marrakech
---
Overview :
This desert tour of 2 Days / 1 Night starting from Marrakech Will takes you on a breathtaking expedition in the south of Morocco through the Mountains of high Atlas with its Berber villages, Kasbahs, Gorge and Sahara desert (Erg Chigaga dunes). The 2 days Desert tour from Marrakech covers a huge part of Morocco and offers a variety of landscapes, attractions and lifestyles. Experience the real desert dunes and Berber lifestyle on a 2-day Sahara desert tour to Erg Chigaga dunes from Marrakech. Sleep in a typical desert camp, see the sunrise and sunset from the back of a camel, Drive through the Draa Valley, past palm trees and enjoy spectacular views of the legendary Kasbahs and oases.
HIGHLIGHTS : 2 days trip from Marrakech to Erg Chegaga
Enjoy the beautiful landscapes between Marrakech and M'hamid Desert
Discover the Sahara Desert of Erg Chegaga with its impressive and large dunes
Drive the Tizi n Tichka Pass of the High Atlas Mountains
Visit the UNESCO world heritage site of Ait Ben Haddou
Pass Ouarzazate and visit Film Studios and Taourirt Kasbah
Camel rides & spend overnight in a Desert Nomad tents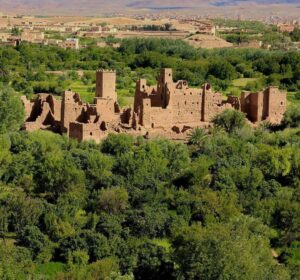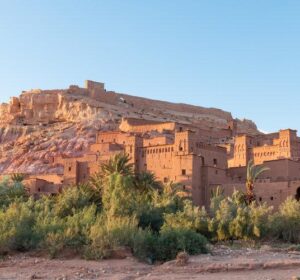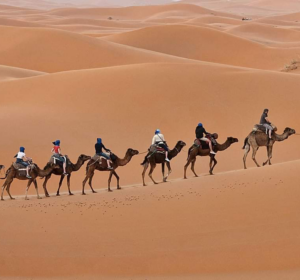 2 Days Desert Tour from Marrakech itinerary :
Day 1: Marrakech – High atlas – Taznakht – Foum Zguid – Erg Chegaga Dunes
We will start our 2 Days Sahara Desert Tour from Marrakech to Erg Chegaga from your hotel/riad at 6am to start our journey from Marrakech to Erg Chigaga Acrossing the Tizi-n-Tichka Atlas Pass, with far-reaching views across the mountains, to the traditional High Atlas Berber Villages towards Taznakht, a Village famous with its magnificent Berber Carpets. Here you can visit some women associations to discover thier different techniques of working, afterwards your 2 days Chegaga desert adventure continues to reach Foum Zguid village where you will have a stop for lunch. After we will drive across the gravel desert and pass by a fossil site…
Our trip will lead us across the even plane of Lac Iriki, a dried-out lake in a solidary desert landscape glistening white in the sunshine in order to reach the immense sand dunes of Erg Chegaga where there are still nomads living with herds of camels today, you will enjoy the rough beauty, the endless vastness and quietude of the desert.
You will experience the constant change of light depending on the position of the sun that turns this archaic countryside into a bizarre dream landscape and where you will enjoy camel trekking experience to one of the highest sand dunes for a picturesque sunset, upon the sand dunes of 300 mhigh and 40 km along. After the sunset you will ride camels back to the camp where you will have Dinner and night in nomad tent.
Day 2: Erg Chigaga Desert Trip – MHamid – Tagounite – Tamegroute – Draa valley- Ouarzazate – Marrakech:
Our second day of the 2 days trip to Erg chigaga Desert start with a beautiful sunrise at the dunes near the camp, after the breakfast we Will start the return journey to Marrakech via a different way until Ouarzazate. The trip will lead us to Mhamid and Tagounite acrossing a picturesque countryside with oases gardens and palms. In Tamegroute, a small town right outside of Zagora, You will enjoy the exotic countryside on the way back across the Draa villages. In the afternoon, you can visit the Atlas Corporation Studio, a well–known cinematographic centre renowned for blockbuster productions including Asterix and Cleopatre directed by Alain Chabat; and the Oscar-wining Gladiator, directed by Ridley Scott. After lunch we will continue our 2 days Sahara tour from Marrakech to Erg Chigaga Dunes towards Ait ben Hadou Kasbah where you can take the time for visiting the world-famous Ksar (fortified village), one of the most picturesque in Morocco and a UNESCO World Cultural Herritage. The kasbah is one of the most intriguing red earth castles lining the ancient road of the Kasbahs. Our Desert trip will ends by accrossing the high Atlas mountains again back to Marrakech. we will drop you off at your hotel or airport and end of our services.
What´s Included In Your 2 Days Desert Tour:
A/C 4WD vehicle
Fuel
Flexible and customized stops
Pick up and Drop off at your Riad
English speaking driver
Overnight in bedouin tents, possibility to upgrade to luxury tents with ensuite bathroom
Dinner and Breakfast
Private tent & Private Trip
Local guide in Ait Ben Haddou
Absolutely Shopping free tour
What´s Not Included In Your 2 Days Desert Tour:
Lunchs
Drinks
Tips
Entrance fees to monuments, studios and Kasbahs
Merzouga Tours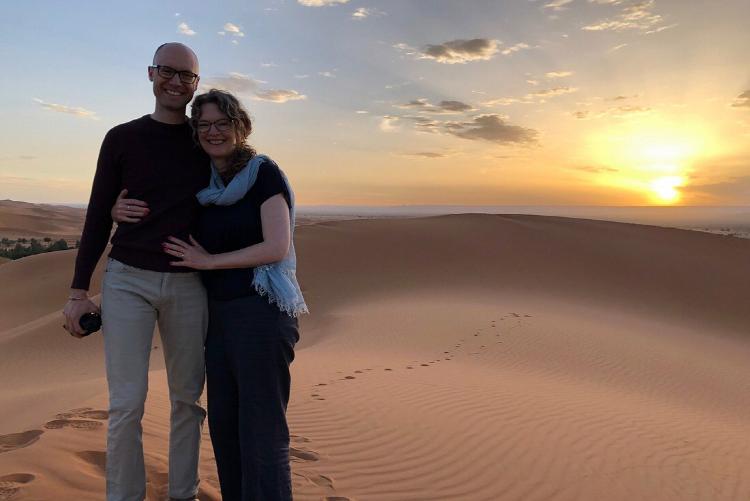 9/10





Merzouga Tours
2 Days Tour From Marrakech to Erg Chegaga Dunes
Travels