4 Days Desert Trip From Ouarzazate to Sahara Desert

4 Days Tour from Ouarzazate to Merzouga / Morocco Sahara Desert 4 days Ouarzazate to Erg Chebbi
---
Overview :
4 Days Trip from Ouarzazate to Merzouga Desert is the perfect way to explore Morocco. Our Desert Tour From Ouarzazate departs from Ouarzazate and heads towards the desert of Erg Chebbi Dunes near Merzouga, without forgetting camel trek experience and overnight stay at desert camp including Sunset & Sunrise over the dunes of Erg Chebbi. This 4 Days Tour from Ouarzazate to Sahara Desert will give the opportunity to spend more time in the Sahara, explore the Merzouga area including a visit to the Berber nomad families… On our private tour Ouarzazate to Erg Chebbi Dunes you'll visit the traditional Weekly market of Rissani, the beautiful Todra valley and gorge, Dades Valley and Taourirt Kasbah, Film studios in Ouarzazate as well as the UNESCO World Heritage Site of ksar Ait Benhaddou.
4 Days Morocco Sahara Desert Tour from Ouarzazate To Merzouga Desert :
---
* Duration : 4 days / 3 nights
* Departure time : 8/9 am
* Starting point : Your hotel / Airport / anywhere in Ouarzazate
* Ending point : Your hotel / Airport / anywhere in Ouarzazate
---
4 Days Ouarzazate Desert Trip Highlights :
---
> Visiting Kasbah Ait Ben Haddou, Kasbah Amredhil, and Kasbah Tamnougalte
> Exploring Skoura Oasis unlimited palm groves and driving through the Road of a Thousand Kasbahs
> Stopping at Keľaa M'gouna to visit the cosmetic co-operatives
> Discovering the Dades and Toudgha Valleys and Gorges
> Stopping at Berber villages, interacting with the local inhabitants and learning about life in the oases
> Riding camels to the top of the dunes and photographing your friends wearing blue turbans
> Dining under a starlit sky, dancing to Berber music and drumming, and sleeping in nomad tents near the big dunes
> Strolling in the Dra'a Valley with its green palm groves and numerous Kasbahs
> Visiting the green pottery workshops and ancient Quranic library in the village of Tamgroute
> Crossing the Anti-Atlas Mountains via the Tizi- n-Tinfifite pass
Tour Itinerary : 5 Days Morocco Desert Tour from Ouarzazate.
Day 1 : OUARZAZATE – SKOURA OASIS – ROSES VALLEY – DADES GORGES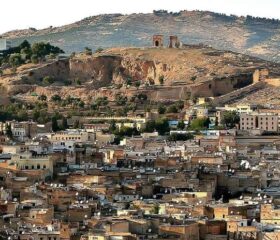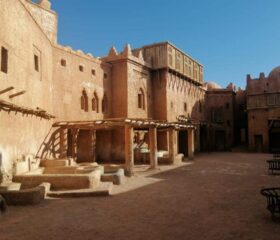 After breakfast, we will start our Desert Tour From Ouarzazate. We are going to head to Dades Valley on the road of a thousand Kasbah, after visiting the oasis of Skoura, the amazing Kasbah of Amridel and the Rose Valley of Kalaat Mgouna. We will stop then at the tranquility of the valley and gorges of Dades where the nomad families live. And we shall spend the night in a traditional Riad.
Day 2 : DADES GORGES – TOUDGHA GORGES – ALNIF – MHARCH – TAFRAOUTE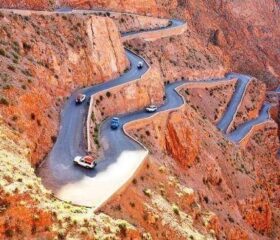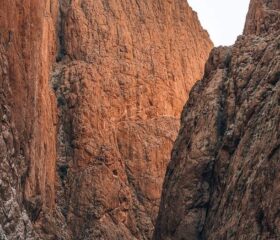 Upon finishing our breakfast, we will leave the Valley of Dades to go to visit a hidden Berber Village called Mharch tafraoute. But before that, we will visit some places like Alnif, then some villages that are situated off-road like Tazoulate, Fzou, and Hi Fougani, where we will have a picnic. And finally, we will stop at Mharch tafraoute to spend the night there in a nice guest house.
Day 3 : MHARCH – KHAMLIA – ERG CHEBBI DUNES – MERZOUGA CAMEL RIDE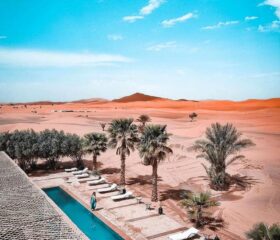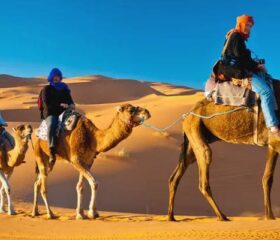 On this day of our Morocco Sahara Desert Tour, we will go to the hotel at Merzouga village. We will take a ride in our 4×4 car towards the palm plantation spots of Tafilalet. Then, we will visit Rissani, which is the holy land of the Moroccan Royal Family and also an ancient market that was the center of many caravans coming from the Sub-Sahara. After that, we will go to Erg Chebbi dunes, riding the camels toward the desert camp where we will spend a wonderful night.
Day 4 : MERZOUGA – RISSANI – ALNIF – DRAA VALLEY – OUARZAZATE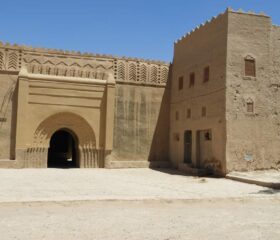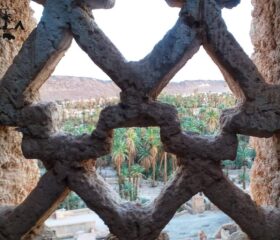 After enjoying the wonderful views of the sunrise early in the morning, we will head back to the hotel at Merzouga village. We will go after that to Alnif for a traditional lunch. Then, we will pay a visit to many villages and Kasbahs including Tazarine, N'kob, and Tansikht. Finally, we will head towards Ouarzazate through Draa Valley and some villages like Agdez. At Ouarzazate, our Sahara Morocco Desert Trip From Ouarzazate ends.
The price includes :
---
* Pick up from your hotel / Airport Or anywhere Ouarzazate
* Drop off you at your hotel or anywhere in Ouarzazate
* Tour in air condition vehicle A/C
* Experienced English speaking driver
* 2 night stay at private room at hotel / riad ( dinner & breakfast included )
* 1 night stay at private tent at desert camp ( dinner & breakfast included )
* Camel trek
* Moroccan mint tea at the camp
* Fuel
* Visit some interesting places along the way
---
The price doesn't include :
---
* Lunches
* Drinks
* Entrances to monuments (optional)
---
Additional Informations :
---
* Vegetarian options are available, please let us know upon request
* Confirmation will be received at the time of booking