Wonderful MOROCCO DESERT TOURS & ACTIVITIES
Join Wonderful Morocco desert tours to Experience the dunes of the Sahara Desert that let you take a first peek into the Erg-Chebbi and Erg-Chigaga deserts. An overnight stay at Merzouga Outpost of Erg-Chebbi where visitors can see beautiful sand dunes, oases, and palm trees is a prime attraction among visitors on Morocco desert trips.
Merzouga Tours is a Morocco travel company that helps in organizing exciting Private and Shared Desert Sahara tours at very affordable prices with daily departures from Marrakech, Fes, Casablanca, Tangier, Agadir, Ouarzazate, Errachidia and Merzouga including Camel riding tours & desert camping, Sand Boarding, Merzouga 4×4 Tour, and more.
10 Wonderful THINGS TO DO IN MOROCCO SAHARA DESERT TOURS
Our list of Morocco Sahara desert tours above is just some suggestions and a few examples of the best-selling tours. If the itinerary that you are looking for is not listed on our best-selling list or maybe listed but you want it to include some other cities or places or other activities which are not mentioned, just tell us your interests, what and where you'd like to visit and we'll be able to suggest a tour tailored to suit you and your budget.
#1 Marrakech to Zagora 2-day Sahara desert tour 
#2 2 Days tour from Fes to Merzouga desert 
#3 Marrakech to Fes 3-Day desert tour 
#4 3 Days desert tour from Marrakech to Merzouga 
#5 Fes to Marrakech 3-day Sahara desert tour
#6 Fes to Merzouga desert tour 3 Days 
#7 4 Days Fes to Marrakech desert tour 
#8 4 Days desert trip from Marrakech to Fes 
#9 Marrakech to Merzouga 4-day desert tour 
#10 Marrakech to Erg chigaga desert tour 4 days 
Wonderful OF MOROCCAN SAHARA DESERT TOURS
Our Morocco Sahara desert tours provide affordable Sahara trips with camel treks that last from two days/one night to Five days/Four nights or more, Our Fes desert tours will take you to discover the lifetime experience (sleeping under the stars, the sunrise from the top of a giant sand-dune).
We offer the imperial Cities or Grand tours of Morocco to the desert from Tangier, Casablanca, Fes, and Marrakech in comfortable air-conditioned 4×4 vehicles and mini-buses. You will be personally welcomed at any airport, train/bus/ferry station, or from your hotel anywhere in Morocco and welcomed with a glass of traditional mint tea.
SOME FACTS ABOUT OUR SAHARA TOURS
The Most popular Morocco desert tours begin at Marrakesh or Fes where visitors are welcomed by our private drivers. The place has a lot to offer, from popular Jemma El-Fna Square to the Atlas Mountains, and local souks to gardens and palaces. It has rooftop restaurants around the square, full of storytellers, magicians, water sellers, snake charmers, and more.
The Atlas Mountains situated near Marrakesh divide the desert interiors and fertile coastal areas. It has the largest Kasbahs and ait ben haddou on its way. Other than that, an overnight stay at Ouarzazate and Draa Valley is also on the itinerary. It is also known as African Hollywood as some of the greatest movies like Cleopatra, Gladiator, Lawrence of Arabia, Alexander, etc. were shot here.
The travel further takes you to the Sahara Desert, where visitors can enjoy camel rides, sleep in nomadic tents, ride on a camel, savor Moroccan delicacies, and enjoy its cool evening breeze. Marrakesh is the last stop of the journey where the visitors can relax and unwind after the Morocco desert tour. The local souks are great places for shopping for souvenirs like decoration pieces, jewelry, and Moroccan carpets for your friends and family.
If these Morocco Sahara desert tours do not match what you're looking for, Contact us and we will prepare the trip for your needs and requirements.
Merzouga Tours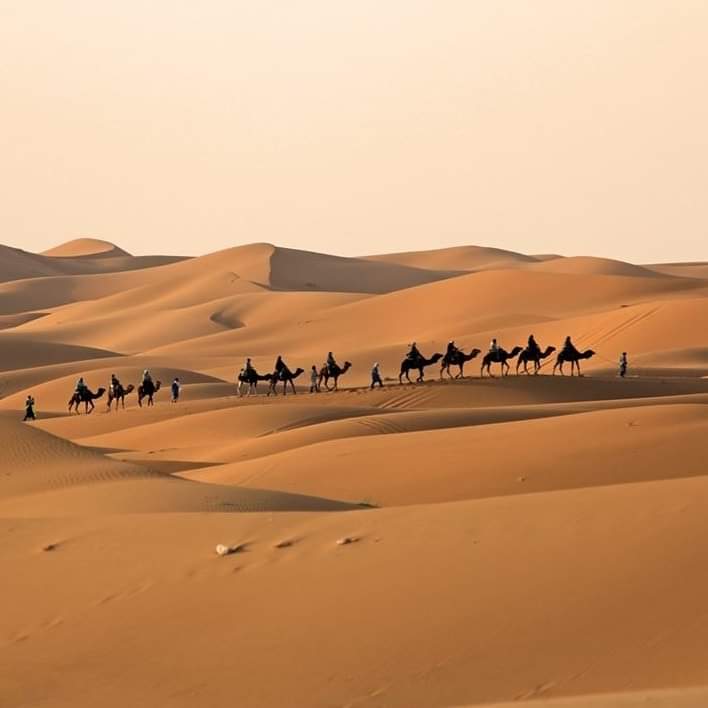 9/10





Merzouga Tours
Morocco Tours - Morocco Desert Tours - Trekking In Morocco
Travels