Top Errachidia Tours and Activities in 2023/2024 – Merzouga Desert Tours
---
Errachidia Desert Tours is one of the best provided Morocco desert tours.
To experience Camel trekking in the Merzouga desert ( Erg Chebbi dunes ) in the south-east of Morocco you need 6 – 7 hours from Fes or 8 – 9 hours from Marrakech which means sitting in the car for so many hours so to decrease the travelling time it is possible to fly from Marrakech, Casablanca and Fes at Royal Air Maroc or Air Arabia.
These are the best choice for people who are in limited time in Morocco and they would like to save time.
Note: Most of the flights arrive late at night and only on certain days of the Week so please check the current schedule on Royal Air Maroc or Air Arabia.
Errachidia is the nearest city from Merzouga it takes around 2 hours by car with a distance of 130km, so arriving at Errachidia national airport "Moulay Ali Cherif " which is the nearest to Erg Chebbi desert it is possible to travel directly
to Merzouga desert or spend the night at the hotel in the city of Errachidia and we will pick you up in the morning of the following day to start your desert tour from Errachidia.
Affordable transfers from Errachidia to Merzouga
Please keep in mind that we arrange also transfers from Errachidia airport to Merzouga desert or vice-versa we will pick you up from the airport and drop you off at your hotel/riad or desert camp in the Merzouga area.
In case you didn't book your accommodation yet we will be happy to help you to do that as we work with different nice and clean ( Standard and Superior) hotels and desert camps in Merzouga.
MERZOUGA DAY TOURS / DESERT EXCURSIONS
Merzouga is a small town on the edge of the Erg Chebbi sand dunes. It's the starting point for all Sahara desert excursions.
The best time to visit the Moroccan desert is between October and April. Temperatures range from 15-25°C during the day to 5-15°C at night.
Merzouga camel trekking and night in desert camp
Quad Biking in Merzouga desert
Morocco desert trekking from Merzouga
Merzouga 4×4 desert excursion
Glamping in Morocco's Sahara Desert
THE BEST SAHARA DESERT TO VISIT IN MOROCCO:
If you are looking for majestic golden dunes, you should visit those of Erg Chebbi in the Merzouga desert, with its 150m high they seem like mountains and it is the most impressive in the Sahara desert in Morocco.
The Sahara desert tours from Marrakech to Merzouga take 9 hours and from Fez to the desert, 8 hours.
BEST OUTDOOR ACTIVITIES IN MOROCCO
Morocco Outdoor activities offer a revealing taste of the exotic, with snake charmers, souks filled with treasures, and endless glasses of mint tea.
It is also an adventure in some of the most impressive landscapes in North Africa, with the desert just around the corner and the rugged heights of the Atlas Mountains beyond.
Merzouga Tours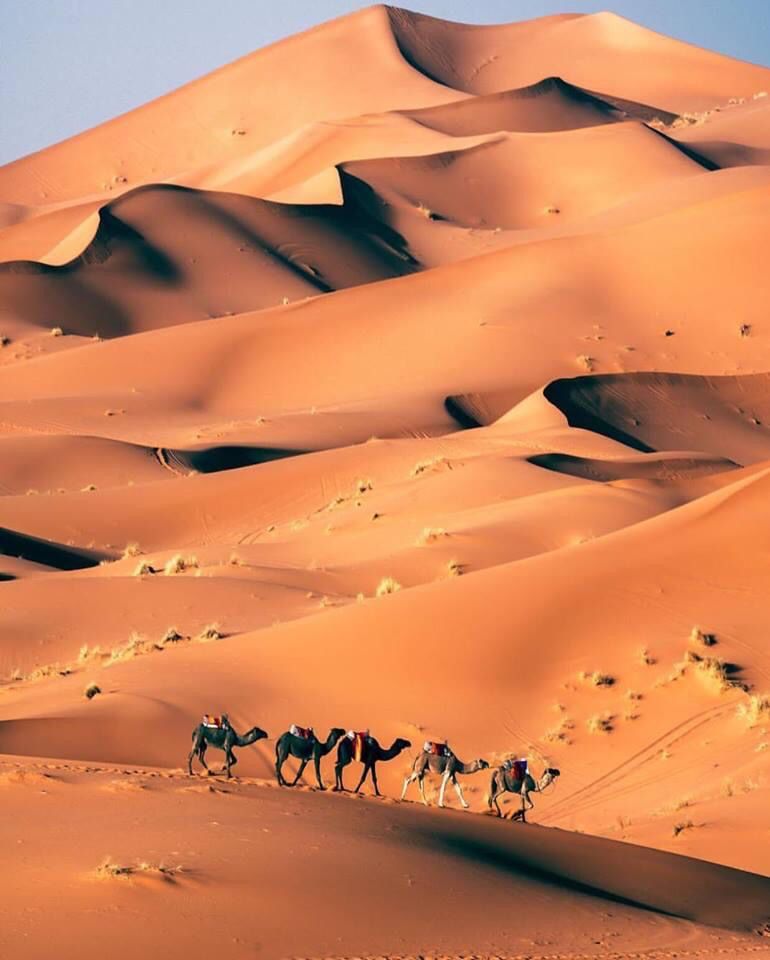 9/10





Merzouga Tours
Top Errachidia Tours and Activities in 2023/2024
Travels