8 Days Tour From Tangier to Merzouga Sahara – Explore Morocco
The Best 8 Days Tour From Tangier to Explore the Beauty of Morocco Overview:
Our tour Agency is welcoming visitors to this 8 days tour from Tangier to the red city, Marrakech. This will be an amazing trip in Morocco as you will be visiting wonderful cities and places such as Tangier, Chefchaouen, and Fez one of the imperial cities, not only that but our visitors will see some panoramic views in the middle Atlas Mountains and the Sahara desert with unique weather that you will undoubtedly enjoy.
After witnessing the wonderful Sahara Desert, we are going to carry on driving to Marrakesh while stopping by some captivating places on the way there, mainly the Kasbah of Ait Benhaddou and the Tizi n Tichka to see the captivating sceneries of the high Atlas Mountains before we arrive in Marrakesh.
* Duration: 8 Days / 7 Nights
* Departure time: 8:30 am
* Starting point: Your hotel/airport or harbor in Tangier
* Ending point: Your hotel in Marrakech
* Price: Depends on number of the people participating in the tour
Tour Itinerary: Wonderful Tour From Tangier to The Sahara Desert
Day 1 : Tangier – Chefchaouen – Fes
You will be picked up by your driver from Merzouga Tours from your hotel, airport or harbour and start our 8 days tour from Tangier going through the stunning Rif mountains passing by Tetouan and continuing to the charming blue city "Chefchaouen" where we will have free time to discover this enchanting little town walking through its narrow streets painted with blue and white colours that will give the opportunity to take some beautiful pictures, visit its old medina, Ras el Ma " head of the water " this is the point at which the fresh mountain waterfall seep its way into the town…
You will have a delicious lunch at a local restaurant in the famous square of Plaza Uta el-Hammam and in the afternoon once your visit ends we will travel directly to Fes while enjoying wonderful views of the Rif mountains and green landscapes of the north of Morocco, arriving in Fes in the late afternoon, overnight stay at decorated hotel/riad.
---
Day 2: Fes Sightseeing tour
After breakfast in your riad, the local guide will start the tour of Fes to explore this great city, the oldest, richest, cultural, religious, spiritual, and mysterious of the four imperial cities of Morocco, which you will notice has not suffered the passage of time, you will visit the old Jewish quarter called Mellah, and the Royal palace gate yard, where you will learn about the Jewish history in Morocco.
Your visit includes the tile art factory and then a wonderful panoramic view of the town, after that You will start with a walking tour within the narrow streets, visiting the famous old Tanneries, and then the Quaraouine Mosque and the University which is the oldest university in the world, the Attain Medersa, and the Najjarin Fountain and after the tour, we drive you back to your riad.
---
Day 3: Fes – Middle Atlas mountains – Tiz'n Talghamt – Ziz Valley – Merzouga Desert
Your Tangier 8 days tour continues towards the Merzouga desert via the middle Atlas mountains we'll enjoy a nice drive through Berber villages. Stop in the beautiful city of Ifrane (known as "Moroccan Switzerland "), continue to Azrou the famous cedar forest where you can see the monkeys and continue to the town of Midelt where you can have a break for lunch. After that, we'll head south to Erfoud known for fossils and its yearly festival dates market through the beautiful Ziz Valley where we'll stop to admire a nice panoramic view with the scenery of the oasis in the afternoon we'll reach the impressive Erg Chebbi dunes dinner and overnight stay at Hotel in Merzouga.
---
Day 4: Explore Merzouga area – Erg Chebbi – Camel Trek and Night at Desert Camp
After breakfast at your hotel we'll start our Merzouga 4×4 excursion to explore different and interesting sites around Erg Chebbi dunes we'll visit the oasis to see its irrigation canal and land agriculture, and we'll head south to the seasonal Day Sriji lake ( if there's water in it) we'll continue to Khamlia village if you are interested in listening to the Gnawa music of the dark skin people who were brought to Morocco as immigration over hundred years ago and they were working as slaves…
Afterwards, we'll continue to M'ifis mines and decide on tourism Merzouga desert is also famous for materials and fossils during our Merzouga 4×4 desert tour we'll have the opportunity to visit a nomad Berber family who is still living in their tent in the middle of the Sahara we'll have a glass of mint tea with them and learn about life in the desert…we'll make stops at different panoramic views to enjoy the scenery and take pictures of the sights…
After lunch at a local restaurant, we'll come back to the village from here you will do camel trekking to reach our Camp in Merzouga the camel ride takes 1 – 1:30 h with a break on top of the dune to watch the sunset, try the sandboarding if that's an activity you're interested in, enjoy the views, take photos then after this beautiful moment you'll continue to the camp where you'll be welcomed with a glass of tea and relax until dinner time, after having dinner there's be some traditional Berber drumming music, enjoy the starry sky then sleep under a nomadic tent.
---
Day 5: Merzouga – Todgha Gorge – Dades Valley
Today as you're already in the desert it is worth getting up early in the morning to watch the sunrise near the camp after these lovely moments you will have breakfast and take a shower at the camp then you can ride the camels or transfer by 4WD back to the original started location where you will meet your driver and continue your 8 Days Tour from Tangier.
You will visit the weekly market of Rissani if it's one of the market days ( Sunday, Tuesday, Thursday) we'll pass through tiny Berber villages such as Touroug, Tinjdad and the Tinghir where we'll stop to admire its beautiful Todra valley full of palm trees and vegetation we continue to Todra gorge located in the feet of the high atlas mountains a famous place for rock climbers we'll have free time to walk through its high canyons…
We'll have a break for lunch then in the afternoon we'll travel to Boumalne Dades and in the afternoon we'll arrive in Dades Valley, have dinner and overnight stay at a hotel/riad.
---
Day 6: Dades Valley – Ouarzazate – Ait ben Haddou- High atlas mountains – Marrakech
Today is the 6th day of our 8 Days Tour from Tangier to Marrakech our journey continues direction to Marrakech via Kalaat M'gouna, rose valley, and Skoura palm grove. We make a visit to Kasbah Taourirte and film studios in Ouarzazate (optional) then we will drive to Ait Ben Haddou where we will visit its famous and oldest kasbah (declared World Heritage Site by UNESCO in 1986).
Famous films have been shot in this spectacular place including Gladiator, Obelix, the Mummy, the Jewel of the Nile, Sahara with Penélope Cruz…etc free time to have lunch. We continue our trip crossing the High Atlas mountains via the highest road pass in Morocco called Tizi N'tichka at 2260 meters above sea level it offers impressive views of valleys, mountains, and many Berber villages nearby. Arrival in the afternoon/evening to Marrakech, transfer to your hotel.
---
Day 7: Marrakech Sightseeing Tour
After having breakfast at your hotel we will start tour guided tour of the red city of Marrakesh in the hands of a local guide to discover its fascinating history through the famous Koutoubia, Bahia Palace, and the Saadian Tombs.
You can eat at a typical restaurant in the medina and the afternoon will drive you to visit the beautiful Majorelle gardens and after that, you will have free to discover for yourselves the charms of this city, to walk through the streets of the medina, get lost in its immense market or savour traditional Moroccan food in the Jamaa el-Fna Square. Visiting this city means observing the essence of Morocco which is always in constant change. Overnight at hotel/riad.
---
Day 8: Marrakech airport
You will have breakfast at your hotel/riad and free time to do whatever you want until the convenient time for your flight then we will transfer you to Marrakech airport to catch your plane back home and our 8 Days Tour from Tangier end.
* Pick up at your hotel/airport or harbor in Tangier
* Drop off at your hotel in Marrakech
* Private tour in comfortable vehicle 4WD, minivan A/C
* Experienced English-speaking driver
* 6 nights in a private room at the hotel (dinner & breakfast included)
* 1 night in a private tent at desert camp (dinner & breakfast included)
* Guided city tour of Fes with a local guide
* Guided city tour of Marrakech with a local guide
* Sandboarding in the dunes ( if you are interested)
* Fuel
* Free time to visit all interesting sites, take pictures …
Merzouga Tours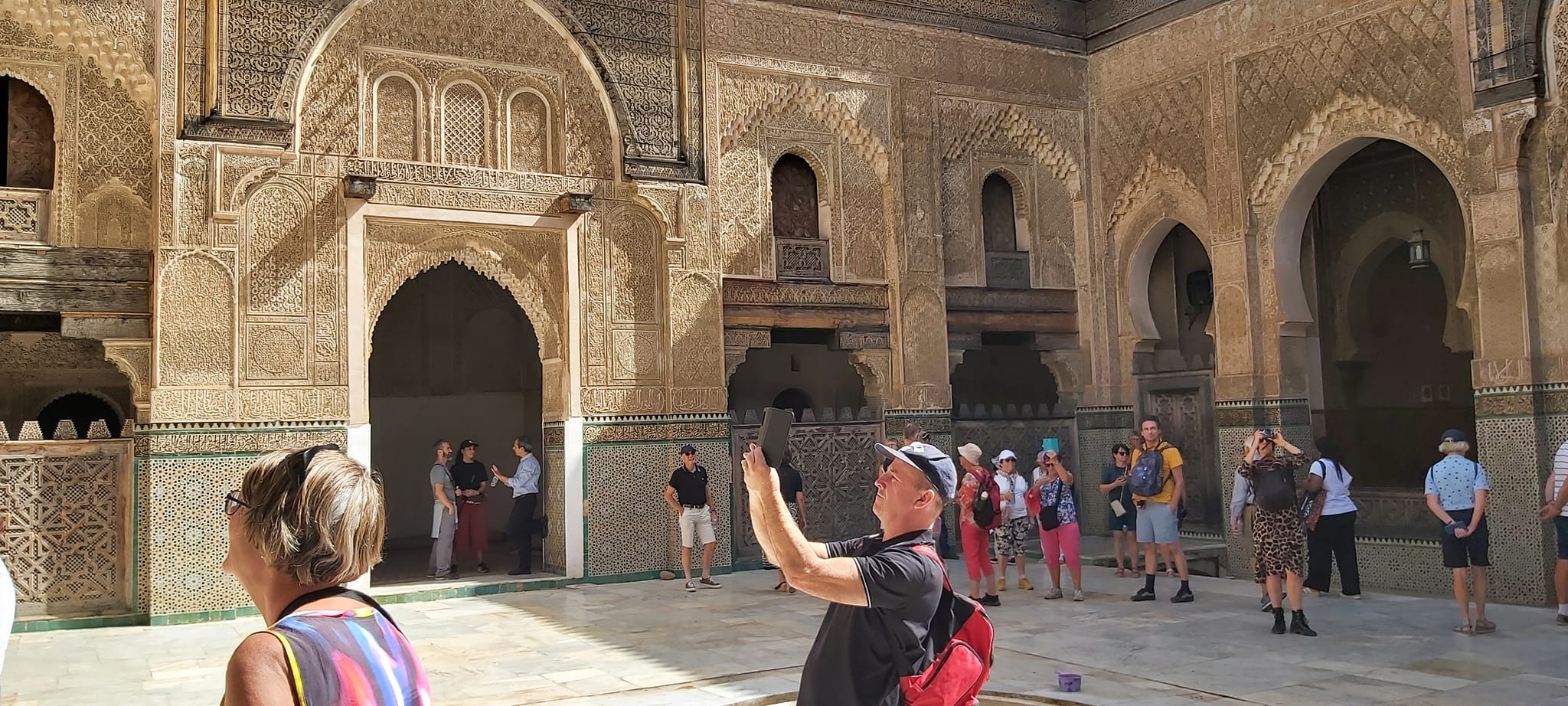 9/10





Merzouga Tours
8 Days Tour From Tangier to Merzouga - Explore Morocco
Travels
Merzouga Tours - Travel in Morocco