2 Nights Camel Trekking in Merzouga – Erg Chebbi
2 Nights Camel Trek Morocco – Erg Chebbi Desert Trip.
---
2 Nights Camel Trekking Merzouga Desert & Erg Chebbi
General Survey :
This adventure for 2 nights in Merzouga includes a camel trek towards the high sand dunes of Erg Chebbi. Over the dunes; you will witness both the stunning sunset and sunrise. This 2 night Merzouga camel trip is a chance to camp in the desert under the endless stars, listen to Berber music (drums instruments) and try some tasty Moroccan food. You will have dinner, breakfast and a shower at the camp.
Overnight Camel trek Merzouga Info :
---
* Duration : 3 Days / 2 Nights
* Starting Location: hotel/riad Merzouga area
* Ending Location: Return to the Departure Point
* Departure: Everyday
What's Included in 2 Nights Camel Trek in Erg Chebbi :
---
* Camel ride (Camel for each person).
* 2 nights at the desert camp (Private tents).
* Dinner.
* Breakfast.
* Experienced Camel guide.
* Parking in your Car (if you have one).
* A Rome in the hotel/riad to leave luggage & take shower.
* Sandboarding. ( if you're interested )
Full program itinerary
Day 1: Camel Trek From Merzouga Erg Chebbi Dunes – Sunset – sandboarding – Nights in Tents in Sahara
This camel trek will get started in the afternoon and the camel guide will take you to our camp which is in the middle of the erg Chebbi dunes, when you get to the camp you will get first your own private Tent (one Berber tent for every two persons or a family ) then you will climb the highest dune to watch the sunset, take photos… come back to the camp you will have dinner in a Berber tent "Restaurant". After a wonderful dinner, we will build a campfire and play the drums and sing the traditional songs of the Berber. Overnight stay at Nomadic camp.
Day 2: Merzouga Dunes – the Sahara Desert – Berber Nomad Family – Camel Ride To The Camp.
In the morning, after having breakfast we will have around 1 hour to reach our next destination: a small oasis with some trees where we will have lunch and spend all the day, climbing the high dune to do sandboarding, and see the sunset over Erg Chebbi. After sunset, we come back to our camp to spend our second night, with delicious dinner and music while you enjoy watching the stars.
Day 3: Merzouga 
In the morning you will be woken up to see the sunrise with the many different colours in the dunes! and then you will head back to the hotel where you will have a nice Berber breakfast and you can have a shower.
2 Nights Camel Trek Highlights :
* Experience camel trek through the Erg Chebbi dunes
* Beautiful sunset over the sand dunes of the Sahara
* Try Sandboarding ( Optional )
* Overnight stay at Nomadic camp
* Listen to Berber drumming music
* Enjoy watching the starry sky
* Wonderful sunrise in the Desert.
Merzouga Tours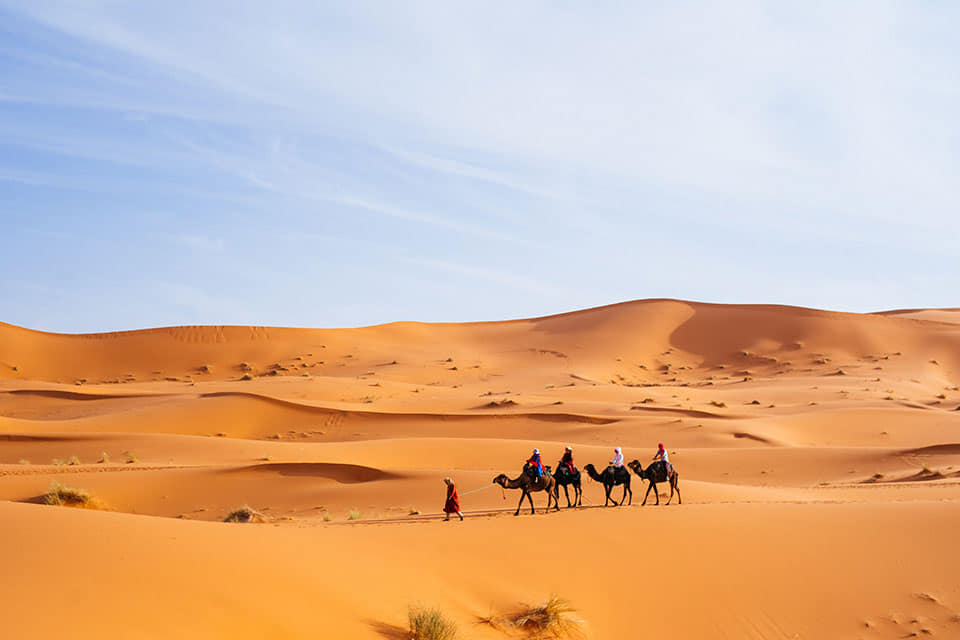 9/10





Merzouga Tours
2 Nights Camel Trekking - Sahara Camel Trek
Travels