Overnight Camel Trekking Sahara - Merzouga Sahara Desert
Merzouga Camel Trek / Wonderful Camel Riding 2023-2024
BEST OVERNIGHT CAMEL TREKKING SAHARA OVERVIEW:
Overnight Camel Trekking in Erg Chebbi Sahara is an unforgettable mix of excitement and tradition. This 1 Night Camel trekking tour is a chance to take a camel ride through the desert, watch Sunset & Sunrise over the golden sand dunes of Erg Chebbi (Merzouga) and spend an extraordinary night at a Standard or Luxury tent.
* Duration : 1 Days / 1 Night
* Starting Location: hotel/riad Merzouga area
* Ending Location: Return to the Departure Point
* Departure: Everyday
Overnight Camel Trekking Sahara Merzouga
After meeting you at our guests in the village where you will leave your car at secure parking and pack the necessary things for the evening in the desert our Merzouga overnight camel trek will start in the late afternoon around 2 hours before sunset and take you right into the heart of the desert dunes.
The trek takes about an hour and a half so you will have the opportunity to watch one of the most beautiful sunsets Morocco has to offer, try sandboarding if this is an activity you are interested in, during the trek, you will take a break in the middle of the Sahara to take pictures and enjoy the landscapes until the sun goes down then continue to the camp where you will be welcomed with a glass of mint tea.
Being Berbers ourselves we can offer you the most traditional evening possible in the desert with authentic food, music, and large tents to accommodate all.
The next day, we recommend rising before it gets light to see a magnificent sunrise across the dunes after these lovely moments you will have a delicious breakfast and take a shower at the camp afterwards you will ride the camels again back to the original starting location or there's an option of transferring you straight from the camp to the village if don't want to ride the camel anymore.
* Free parking for your car ( If you have one )
* A place for our guests where you can leave your luggage and take a shower
* Camels, 1 per person
* Overnight stay in a private tent
* Dinner
* Breakfast
* Moroccan mint tea
* A bottle of water
* Sandboarding in dunes ( Optional )
* Experienced local Guides
Merzouga Tours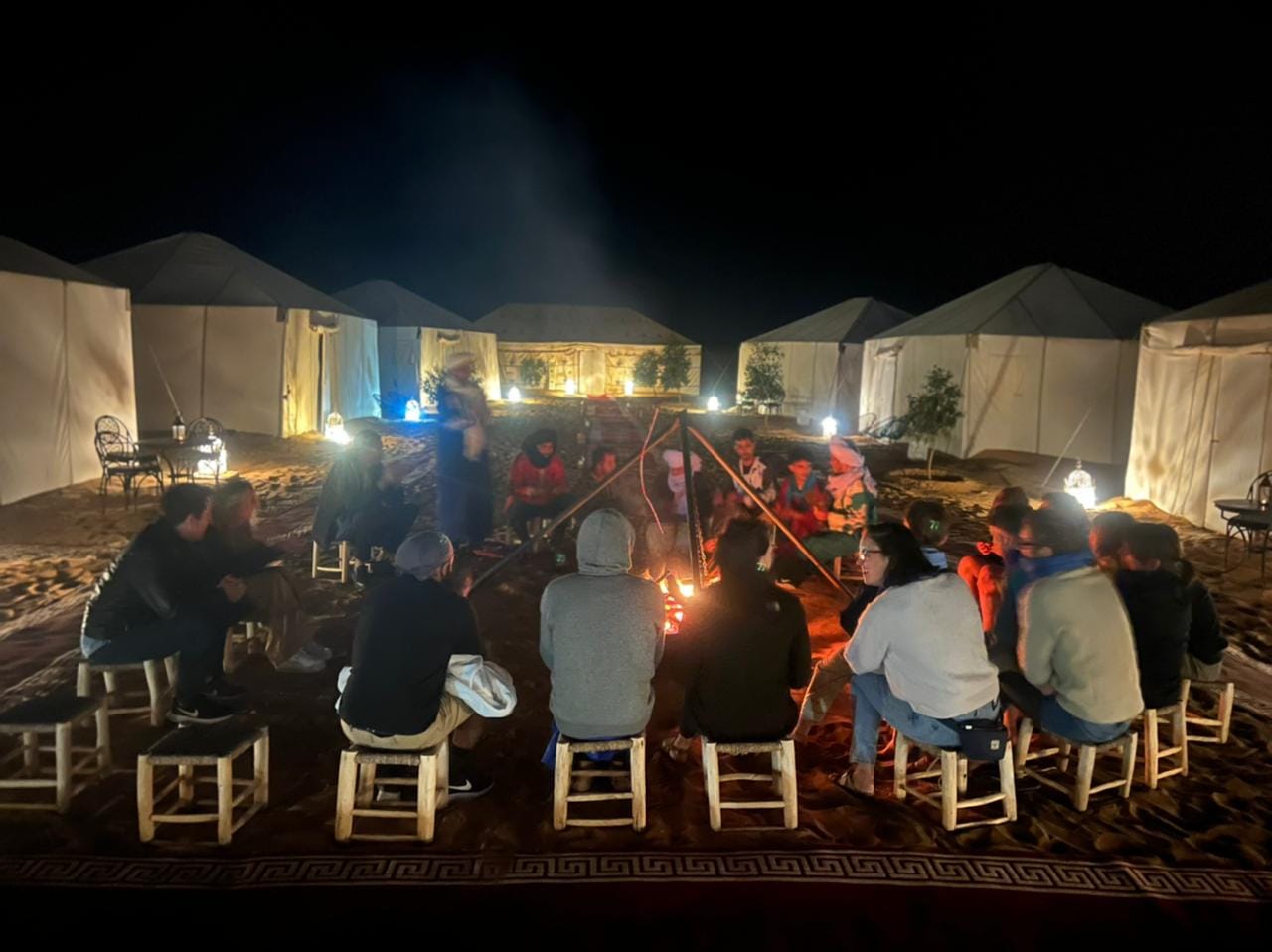 9/10





Merzouga Tours
Best Overnight Camel Trekking Sahara | 1 Night
Travels
Merzouga Tours - Travel in Morocco