2 Days Tour From Fes, Meknes, Chefchaouen, Rabat, Casablanca And marrakech
How To Travel From Fes To Chefchaouen / How To Get From Fes To Chefchaouen 
Discover the scenic beauty of the Meknes and Rif Mountains & Chefchaouen on a 2 day trip from Fes, Meknes, Chefchaouen, Casablanca, Rabat and Marrakech. Have 2 day trip to Chefchaouen from Fez, and enjoy walking and discovering the blue city. Chefchaouen, or Chaouen, as it is called by Moroccans, is a popular tourist destination because of its proximity to Tangier and the Spanish enclave of Ceuta. The name refers to the shape of the Mountain tops above the town that look like two horns (chaoun) of a goat. There are approximately two hundred hotels catering to the summer influx of European tourists. .
Join us in this northern expedition to one of the greatest Rif Mountains, where our visiting city Chefchaouen, known by its attractiveness and away from the biggest touristic centers.
Chefchaouen is know as blue city, It's called so because its walls are a medley of blue and white colour,The town which has always been a favorite destination for visitors was established in 1741. Back in 1920, the Spanish considered Chefchaouen as a part of Spanish Morocco ,Its people usually wear all types of local hand-made woolen habits ,Also the great variety of woven blankets marks the handicraft industry ,For your pleasure, we will have a whole day hiking over the town and an extensive trip through the Rif Mountains as well. We will start our outing by visiting the Kasabah museum in the heart of the medina ,The kasbah is a reinstated walled castle that now contains an amazing garden , a small Ethnographic Museum with some appealing sights of old Chefchaouen,including the plaza and the kasbah.
Fes To Meknes, Chefchaouen, Rabat, Casablanca and Marrakech information
---
* Duration : 2 day
* Departure time : 8:00 am
* Starting point : Your hotel/riad in Fes
* Ending point : Your hotel/riad in Marrakech
---
TRIP FROM FES HIGHLIGHTS :
---
* Beautiful Rif mountains
* Explore the blue city « Chefchaouen »
* Its unique old medina and other sites
* Amazing panoramic views
* Walk through its narrow painted streets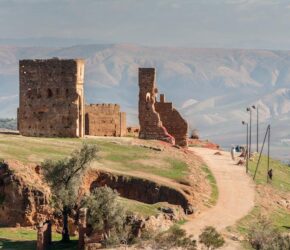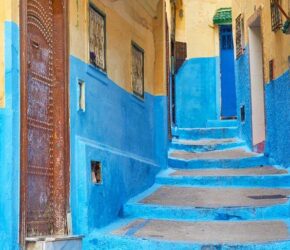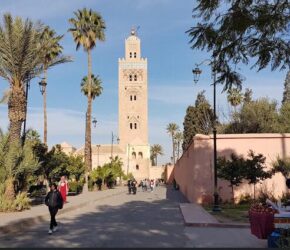 Best Trip from Fes :
Day 1: Fes – Meknès – Chefchaouen 
After breakfast, we will drive to cross the Rif Mountains and into the Middle Atlas Mountains to visit the Roman ruins of Volubilis the most important archaeological site in Morocco. After continuation to Chefchaouen via Meknes it was the capital of Morocco under the reign of Moulay Ismail then you will continue your tour to Chefchaouen,
Day 2: Chefchaouen – Rabat – Casablanca – Marrakech
Later today we drive from chefchaouen to Rabat, capital to explore main sights and attractions in city. Then we continue to largest Moroccan city – Casablanca where we also visit the Hassan II Mosque after sightseeing of Casablanca and we will continue visit the main attractions and monuments. Then we will drive to your accommodation in Marrakech.
The price includes :
---
* Pick up and drop off at your hotel in Marrakech
* Private tour in comfortable vehicle 4WD or minivan A/C
* Experienced English speaking driver
* Breaks at panoramic views and take pictures…
* Stops for panoramic views, take photos, and free time for lunch…
* Fuel
---
The price does not includes :
---
* Lunch
* Drinks
* Entry to monuments (optional)
Merzouga Tours
9/10





Merzouga Tours
Best Way To Get From Fes To Chefchaouen
Travels